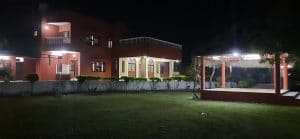 Lal bangla lawn sarnath is a Beautiful Place in Varanasi spread Over 27000+square feet. Where you can easily do any event of 800 to 1000 people. Total 2 Ac Room In Lawn and there is a Ac Hall Where 30 to 50 People Can Sit.
If you searching Marriage Lawn in Sarnath Varanasi, that you are right way,
Lal Bangla Lawn is a well-known name in the field of Marriage Lawn, which is based in Varanasi, Uttar Pradesh, India. The company Lal Bangla Lawn Established in 2015, It gained popularity in no time Over all Varanasi Due to its Budget Marriage and rate. their clients believe that Lal Bangla Lawn does not have any combination of Budget Marriage. Lal Bangla Lawn provides Event services for all occasions. they have a Best skilled team in Varanasi for Budget Wedding. they are in a specialist in Small Budget Wedding.
Their teams have the most latest Wedding theme. These are fundamental requirements of an individual, company. which helps them grow their company. The desire to do something creative makes they different from people. Lal Bangla Lawn considered its work to be the foremost influential in whatever creative wedding decor is doing. Thanks to the suggestion of consumers and limited work. The company team every package also tries to offer its best. However, their experienced Tent, Light & Decor team is learning something new a day. If you are looking for a Marriage lawn in Sarnath Varanasi or Budget Marriage Lawn in Sarnath Varanasi, then you are on the right track.